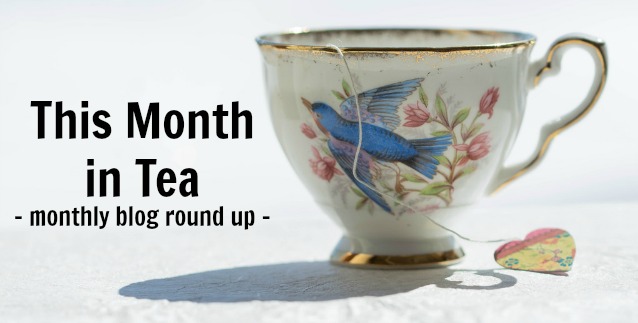 It's currently dark and stormy out, so I'm trapped in my office with a teapot filled with a second flush darjeeling and long to-do list. I can't wait for that satisfaction of checking off all of the items! When I came down to the February blog round up on my list for today, my first thought was "that can't be right?!" It's weird to think it's already March and that spring is just right around the corner. Good thing I already bookmarked a ton of tea related blog posts I read last month to share with you here. Be sure to share any of your favourite tea reads in the comment section below. I can always use more. Happy reading!
Tea
Biodiversitea | A Confession: How not to grow a tea plant – I love this latest post from Megan because I experienced the same thing as her when I bought my first tea plant to care for at home. If you have some tea plant caring tips for those trying at home, please pass them along to myself and Megan!
Taste the Tea | 4 Reasons You Need Glass Teaware – I'm a big fan of glass teaware and one of the main reasons is because I love being able to watch the steeping process. Tea leaves unfurling, water changing colour…all that fun jazz. If you're wanting to invest in some new teaware soon, check out Chelsea's list on why you might want to look for glass!
Mel Had Tea | How to Become A Certified Tea Sommelier – The Tea and Herbal Association of Canada has a program that can be taken in class or online to earn your tea sommelier certificate. Mel shares a great overview of her experiences becoming certified, and how you can, too! If you have ever been curious about this specific program, or looking for something like it, this is the blog post for you! It is seriously jam-packed with so many great details as she goes through the course outline.
The Tea Letter | Tea and Mindfulness: Meditation and Self-Awareness in A Cup – In this blog post, Mike talks about his mindful approach to steeping tea. It's something any tea drinker can experience! As he mentions, you don't have to only prepare tea the Chinese gongfu style. I appreciate that he included some tips on how you can start being more mindful when making and drinking tea.
Tea in Spoons | 2018 TRIP: Kyoto Obubu Tea Farms' Tea Tour Recap – Connie is in Japan and she's documenting her journey! This blog post is the first one from her tea trips (she got to pick tea leaves already…jealous!), but her tea travels are just beginning. Follow her weekly recaps on her blog here. She'll eventually be making her way over to Hong Kong and Taiwan, too.
Food
Salt & Lavender | Vegan Matcha Cookies – This is a wonderful recipe for a simple and delicious tea cookie. Can't go wrong with some soft cookies that are also gorgeous green…perfect for St. Patrick's Day coming up!
Jernej Kitchen | Banana Bread with Cream Cheese Frosting – Who wants a slice of banana bread with their cuppa? While I love scones and other tea infused baked goods, I think nothing can compare to the smell of fresh banana bread in the oven. This simple recipe takes it to the next level with a cream cheese frosting.
Lazy Mom's Blog | Tea Time Cherry Muffins with Cream Cheese Frosting – So, I might just be on a cream cheese frosting kick lately. Joanna has some gorgeous tea cups and spoons that are photographed in this recipe post, too! She even offered a few tips on how to easily set up a tea party for friends.
DIY
A Cup of Tea and A Cozy Mystery | DIY Tea Journal – I love this idea of creatively documenting teas you drink. It's simple, cute, and inexpensive. I'm a fan of the placement of the tea tags with the tea pot stamps, but I need to find a good way to do something like this with loose leaf teas. If you have any suggestions, please send them my way!
I hope you enjoy this month in tea blog round up! Do you have a blog you think I should check out? As always, let me know in the comments below!
The post This Month in Tea // February 2018 Blog Round Up appeared first on The Cup of Life.
from The Cup of Life http://ift.tt/2oICo5i